STUFFED TO THE BRIM SARNIES
5.95
On Hobbs house toasted sourdough bread.
SMOKED STREAKY BACON
'CAMS THE BUTCHER' FOREST OF DEAN CHIPOLATA SAUSAGE
FALAFEL & MEDITERRANEAN ROASTED VEGETABLES
ADD A FREE RANGE FRIED EGG + 1.00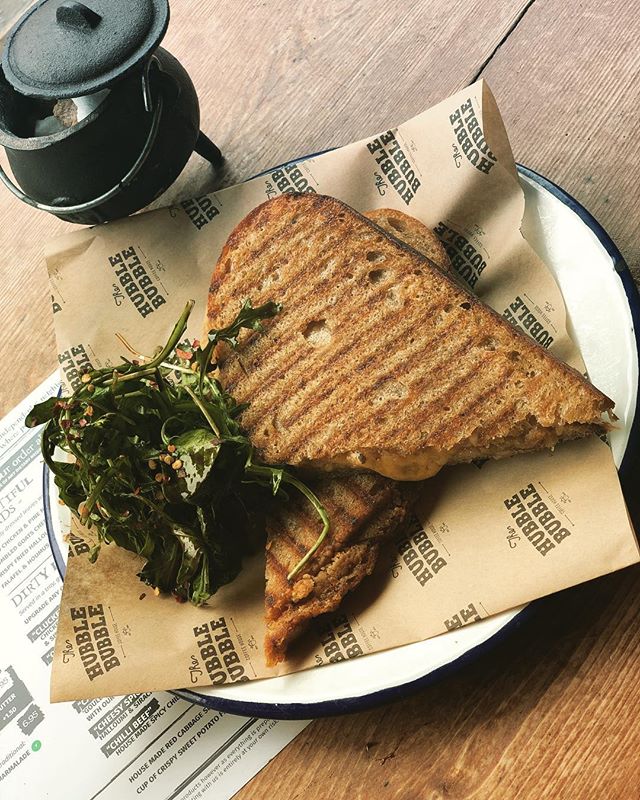 "GLOUCES-TOASTER"
5.95
Double Gloucester Grilled cheese sandwich on hobbs house bread with our signature garlic butter.
SMASHED AVOCADO
6.95
On Hobbs house sourdough toast, with free range soft boiled egg or roasted mushrooms, dusted with chilli flakes.
ADD CRUMBLED GOATS CHEESE +1.00
ADD BACON +1.50
ADD SMOKED SALMON +2.50
SMOKED SALMON & CREAM CHEESE TOPPED WITH A FREE RANGE SOFT BOILED EGG & LEMON AIOLI
SMASHED AVOCADO, CRISPY FRIED FALAFEL, ROCKET & SIRACHA
CRISPY BACON & CREAM CHEESE TOPPED WITH A FREE RANGE SOFT BOILED EGG & LEMON AOILI
AMERICAN STYLE PANCAKES
6.95
Stacked with your choice of topping.

STREAKY SMOKED BACON & MAPLE SYRUP
RED BERRY FRUIT COMPOTE (v)
CHOCOLATE SAUCE WITH A SCOOP OF VANILLA ICE CREAM TOPPED WITH OREO CRUMB (v)
HUBBLE BUBBLE'S FULL ENGLISH
8.95
Classic English breakfast, done our way!
TRADITIONAL, VEGAN OR VEGETARIAN (v) (vv)
GIANT TEA CAKES
3.00
Perfect for breakfast alongside either a coffee or tea.
CIABBATTAS
4.95
Served with our homemade side salads.
"THE ITALIAN JOB" (v)
TOMATO, PESTO & MOZZARELLA
"LOW & SLOW"
PULLED HAM & CHEESE
"THE SQUEELY PIG"
BACON, BRIE & CRANBERRY
"CHICKPEA DELIGHT" (v) (vv)
FALAFEL, HUMMUS & SWEET CHILLI
"POSH'UN"
SMOKED SALMON & CREAM CHEESE
"BILLY THE KID" (v)
GOATS CHEESE & RED ONION MARMALADE
STUFFED JACKETS
6.95
Served with side salad. Choose sweet potato or traditional:
GOATS CHEESE OR CHEDDAR & RED ONION MARMALADE (v)
HUMMUS, FALAFEL & ROCKET (v) (vv)
CHIVE CREAM CHEESE & SWEET CHILLI MEDITERRANEAN VEG
SALMON & CREAM CHEESE
HUBBLE BUBBLES PULLED HAM & HOUSE MADE SLAW
PESTO CHICKEN & MOZZERELLA
DIRTY LOADED FRIES
6.95
Served in a tray, great as a meal for one or shared between 2.
"CLUCKER"
CHICKEN, CHORIZO, MELTED CHEDDAR & SIRACHA DRIZZLE
"OINKER"
HOUSE PULLED HAM, STREAKY SMOKED BACON, MELTED BRIE BBQ MAYO
"VEGGO" (v) (vv)
FALAFEL, HUMMUS, MEDITERRANEAN ROAST VEG, SWEET CHILLI & ROCKET
"CANADIAN FRIES" (v)
'GOULDS CHEDDAR' AUTHENTIC CHEESE TOPPED WITH OUR HOUSE GRAVY
"CHEESY SPICE" (v)
HALLOUMI & SIRACHA MAYO FRIES
"CHILLI BEEF"
HOUSE MADE SPICY CHILLI TOPPED WITH MELTED CHEDDAR
UPGRADE ANY OPTION TO SWEET POTATO FRIES +1.95
ONION RINGS +2.55
MUG OF SKIN ON FRIES +2.55
UPGRADE TO GLUTEN FREE BREAD +1.00
HOUSE MADE RED CABBAGE SLAW +2.50
CUP OF CRISPY SWEET POTATO FRIES +2.95
DIPPY EGGS AND SOLDIERS
Perfect eggs for dipping
LITTLE BRUNCH
Eggs, beans, sausage, bacon & toast
HAM OR CHEESE TOASTIE
Served with lettuce, cucumber & a few chips. Alternative fillings on request.
HOT POTATO
Jacket with a choice of ham, cheese, beans or butter. Alternative fillings on request.
BREAD & BUTTER/TOAST 2.50
ONION RINGS 2.55
SKIN ON FRIES 2.55
SWEET POTATO FRIES 2.95
We go to every extreme to accommodate to people with dietary requirements – using specific boards, fryer and products however as everything is prepared in one kitchen we cannot fully guarantee that any meal has not been contaminated with an allergen and so we advise you that eating with us is entirely at your own risk. We do not recommend anyone with a life threatening or serious allergy eats with us.